Advocacy Ministry
The Advocacy Committee seeks to help First Presbyterian learn about the challenges facing our neighbors in Charlotte and to inform the congregation about opportunities for addressing those challenges, both individually and as a church.
Our four main areas of advocacy are listed below. You can click into each topic page to learn more about each. We also have a searchable resources section for you to learn on your own time. 
Homelessness + Housing
Housing stability is a crucial part of upward mobility. What are the challenges in Charlotte, and how can we address them?
EQUITY + EDUCATION
Quality education provides opportunities to move out of poverty. What are the barriers to equitable access and how can we help remove them?
Anti-racism
Anti-racism is active endorsement of policies and ideas, by individuals and institutions, that lead to racial equity.  What steps must we take as a church and as individuals to become anti-racist?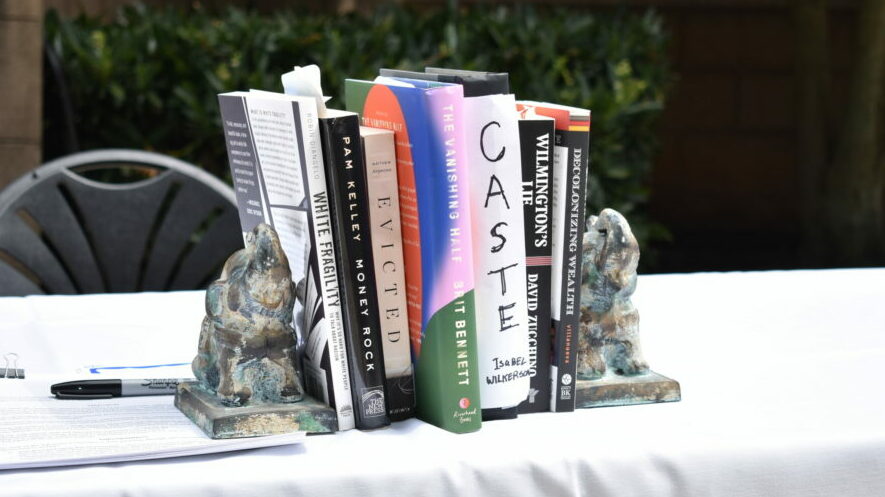 Plowshares Book Group
Through discussions of challenging books, we hope to learn more about people in our community and the issues they face.
Resources
We want to understand challenges, amplify voices, explore opportunities, and take action within our community. Below is a list of resources to help you learn and grow.
Mona Lisa's checklist: A homeless woman's quest to 'just get a job' in Charlotte
CharMeck State of Housing Instability & Homelessness Report
Why Are American Public Schools Still So Segregated?
Statement on the Death of George Floyd
News
Updates and information directly from the Advocacy Committee.  
Nov. 2020 marked the 20 year anniversary of our partnership with Westerly Hills Academy. To honor this milestone, we established a food pantry at the school. The project was recently featured in the CMS Foundation yearbook.
Mixed Income Developments Panel
Have you ever wondered what it's like to live in a mixed income housing development? Are you curious as to how developers make the financials work, particularly in areas like Uptown where land costs are high? This panel discussion answers these questions and more about the challenges and successes of mixed income housing. FPC members […]
Partners & Volunteer Opportunities
Roof Above
Homelessness + Housing
Make and fill soup cups and assemble lunch bags to be picked up by visitors at their College Street campus.
Food Pantry Support
Equity + Education
Provide for the pantry at Westerly Hills Academy on a monthly basis or serve on the team that delivers food to the school.
Join an Advocacy Subcommittee
Join an Advocacy Committee subcommittee: Homelessness and Housing, Anti-Racism, Equity in Education, Plowshares Book Group, or Communications
Build with Habitat
Homelessness + Housing
Help families build and improve places to call home with mortgages that are affordable. First Presbyterian partners with Habitat for Humanity Charlotte to build a home each fall.
21-Day Racial Equity Challenge
Anti-Racism
Each day you'll receive an e-mail with links to sites where you will learn about facets of racial equity.  Many at First Presbyterian have completed this challenge. 
Have Questions?
We'd love to answer them for you.
Please reach out to the Advocacy Committee through the button below.