Youth Ministry
Growing up is hard. We believe our youth should have a safe space to explore their faith, build relationships with each other and with God, and learn to live as Christ teaches us.
To help with that, we provide routine gatherings for middle and high school students to live out their faith in a world that is broken. We do that through worship, love, service, and witness.
Ultimately it's our hope that our students will go into the world with a deeper understanding of their relationship with God, knowing how to live as Christ instructs us, and showing love to all they encounter.
UPCOMING EVENTS:
***The first Confirmation Youth Session is on January 22nd at 9:45am!***
-PYC on January 8th: "Shrinky Dink Star Words!" We will be exploring Epiphany by by receiving star words and making them with Shrinky Dink as we consider where we are being called  we start off the new year. 
-Congregational Breakfast Hosted by Youth Ministry (February 26th): Click here to volunteer starting on January 15th. We need volunteers to help with ticket sales, promotion during Sunday School, and for day-of events!
-Montreat Youth Conference (July 23rd-July 29th): Yes it's only January, but we are SO excited for Montreat. Click here to get a head start on your registration.
-High School Sunday School (January 15th and 22nd): Spirituality and Personality Class taught by FPC Member, Jenny Allen (M. Ed., NCC, LCMHC)  . 
-Middle School Sunday school (January 15th and 22nd): "Acknowledging and Growing from Our Mistakes"
-PYC Bowing (January 29th): Click here to register for PYC Bowling–our annual bowling event for FPC Youth! 
-High School Mission Trip (June 18th-June 23rd): Spots are still open for our High School Mission Trip this Summer through Raleigh Youth Mission, Click here to register.
September-April | Sundays, twice per month| 9:45-10:45 a.m.
Youth Sunday School
Middle and high school youth meet respectively during the school year. During this time, youth will have the opportunity to grab some breakfast, a cup of coffee or hot chocolate, enjoy fellowship with their youth peers, and engage in Bible Study together.
Middle School | Middle School Room (P301)
High School | High School Room (P321)
September-April | Sundays, twice per month | 6-7:45 pm
Presbyterian Youth Connection
Middle and high school youth meet to share a meal together, play games, engage in Bible study, participate in mission opportunities, and more.  View the youth schedule for specific dates.
September-April
Confirmation
Confirmation is a time for eighth graders to confirm their baptismal vows, explore their faith and claim it as their own, deepen their relationship with God and discover what it means to be a disciple of Jesus Christ and part of the Presbyterian tradition. Each youth is partnered with a Confirmation Sponsor, an adult church member outside of their family, with whom they can share their faith and questions.
Want to stay connected?
Sign up for text updates by clicking the buttons below on a mobile device.
September-April | Monthly
Small Group Meetings
We take one night each month to break down into smaller groups so we can explore a time of focused recreation and reflection. Both middle and high school students will have groups dedicated to their age and gender so they can learn more about God and talk through the issues and challenges they're facing.
Meeting time and location varies. No sign up required.
Youth Council
Youth Council members help plan programming and serve as leaders amongst their grade levels and peers during the school year. Youth Council members develop leadership skills to carry with them outside of the church walls.
November-February
Basketball
Middle and High School youth have the opportunity to join the FPC Basketball Team. Practices typically begin in November and the season runs from December – February. It's a great way to be part of a team and have a great time playing basketball!
Overnight Retreats
In an increasingly fast-paced world, people struggle to create balanced lives. It is important to take time away in a multi-tasking world. Middle School and High School youth will have the opportunity to experience Sabbath in a whole new way and focus on faith. Middle School and High School will have separate retreats in the Fall and Spring.
Middle School
Fall Retreat
November 18-20, 2022
Middle School
Camping Trip
May 6-7, 2023
High School
Fall Retreat
November 19-20, 2022
High School
Spring Retreat
April 28-30, 2023
Youth Choirs & Groups
Each week, youth have the opportunity to join with our youth choirs. They rehearse on Wednesday evenings and participate in worship several times throughout the year.
Youth Choir (grades 6-12)
Rehearsals Wednesday | 6:30-7:15 p.m.
The group sings several times a year during worship with the Sanctuary Choir, as well as at Singing in the Season.
Ivey Ringers (grades 9-12)
Rehearsals Wednesday | 7:30-9 p.m.
An auditioned group for advanced middle and high school handbell ringers. Ivey Ringers rehearse weekly and participate in worship and special programs throughout the year, including a handbell concert on Christmas Eve. The group tours each summer, domestically or internationally.
Knox Ringers (grades 5-12)
Rehearsals Wednesday | 7-8 p.m.
This group is a middle and high school ensemble that builds on basic handbell techniques. No music reading experience is required. They rehearse weekly and ring in worship during the year.
Mission Trips & Service Opportunities
Our youth work during the school year to provide service and ministry locally. In the summer, middle school youth serve the local community, and high school youth spend a week serving domestically or internationally.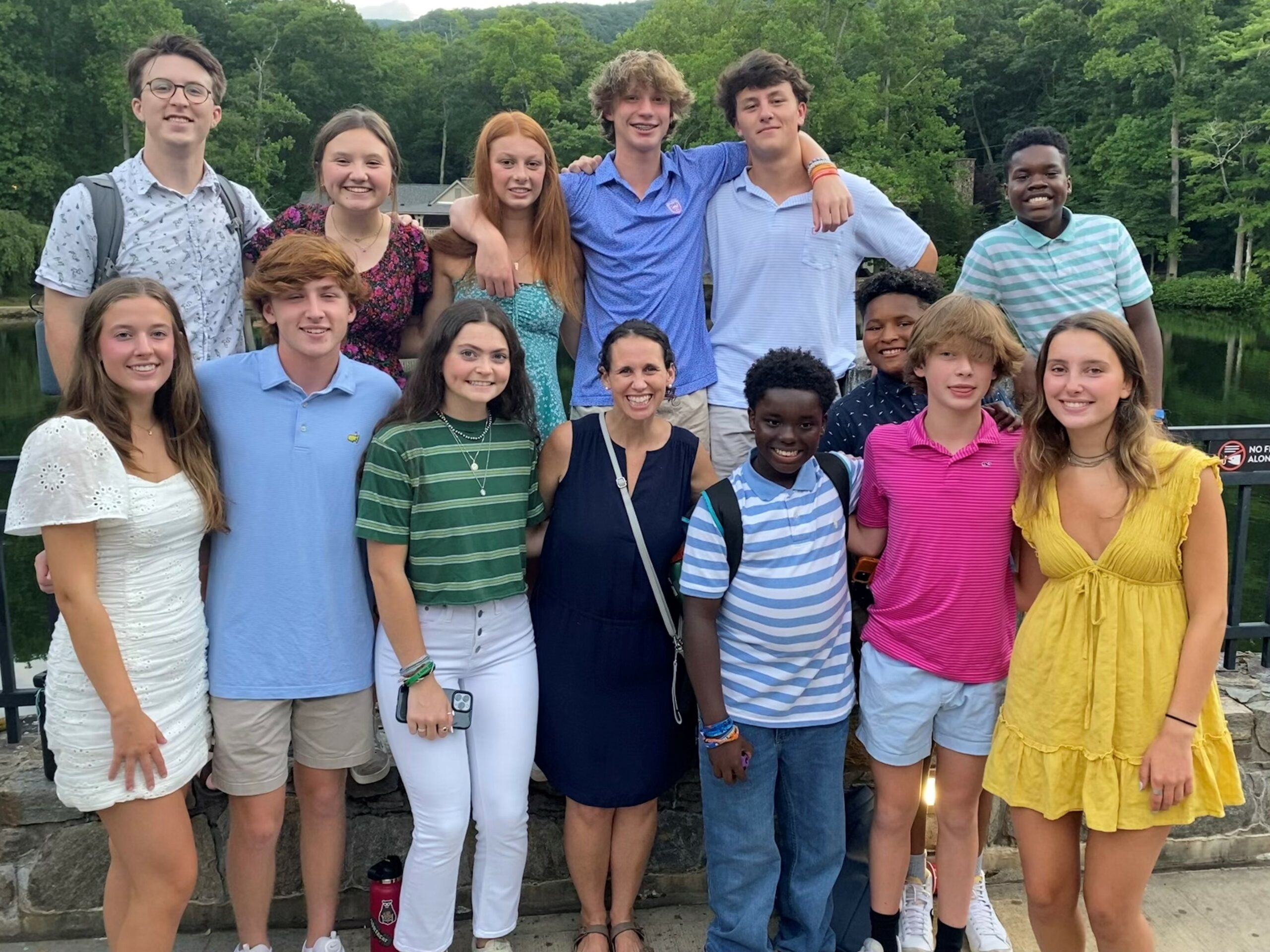 Middle School
CROSS Missions
June 25-30, 2023 | Charlotte, NC
Rising 6th-9th grade youth participate in a local week of service led by CROSS Missions and our neighbors at Myers Park Presbyterian Church. Youth spend four days traveling to various organizations and mission sites across Charlotte to serve, learn, and witness God at work in the city. | More info
Middle School
Massanetta Springs Youth Conferences
July 13-16, 2023 | Massanetta Springs, VA
A long weekend conference of worship, games, and community building for rising 6th-9th grade youth in the Shenandoah Valley of Virginia.
High School
Mission Trip 
June 18-23, 2023 | Raleigh, NC
High School Youth have the opportunity to travel to Raleigh, NC through Raleigh Youth Mission this Summer.
High School
Montreat Youth Conference
July 23-29, 2023 | Montreat, NC
Rising 9th grade through graduating high school seniors can spend a week in the mountains for fellowship with FPC youth and youth from other churches, worship, small groups, recreation, energizers, and music.
Have Questions?
We'd love to answer them for you.
Please reach out through the button below.